What better way to ease the pain and break up the monotony that runners face during marathons than with humor?
Running a marathon (26.2 miles) can be painful and boring. It can cause soreness in your lower back and feet, tire out your spirit, and cause you to lose interest in what you are doing.
But as with most things, laughter is the best medicine when you are getting tired of running. When you are exhausted and sore, you need something to cheer you up.
This is where marathon signs come in handy. They can lift your spirit and boost your energy.
They may not all be relatable, but even if they don't apply to you, they still remind you that there are people cheering for you and your fellow runners, which can be motivating in and of itself.
In this post, we have gathered 46 funny marathon signs to help make runners laugh. If your friend, partner, or family member is planning to run a marathon, you can take inspiration from these images to show your support.
On your mark, get set, go!
1. You know you don't have to do this, right?
via krismmichaels
This is an original post from Kristen Michaels. She knows that you don't have to run, but that you decided to do so anyway.
2. Run fast, he bites!
via tessamunro1
Oh, you wouldn't want to end up being chased by this cute little dog! Actress and producer Tessa Munro made this funny marathon sign during the LA Marathon in 2013.
3. Run faster or I drop the sign!
via trackclubla
Tell him this isn't funny and he might actually drop that sign! This photo was posted by Track Club LA during the LA Marathon in 2019.
4. Run from your childhood.
via kateroni
People run from all sorts of things, including childhood issues (as this ironic sign indicates). Kate Hyatt took this photo during a New York City Marathon.
5. You run marathons, I watch them on Netflix.
via maryfama
Mary Fama is the current art director for Cosmopolitan magazine, and she sure knows how to use her art skills to encourage marathoners to run (or go home and watch Netflix instead!).
6. Why?
via rachgerlach
One very simple question for marathoners: WHY? This sign is already clever and hilarious, and the little boy with his curious expression makes it even better.
7. John (or any other name), you're a cheating b*stard!
via samantharoberts
You can use just about any name here, but John is one of the most common, which makes this sign even better. Every John (or Peter, Simon, etc.) running by will get that "Wait, what? Oh, sh*t!" feeling for a quick second.
8. I've been training for months to hold this sign!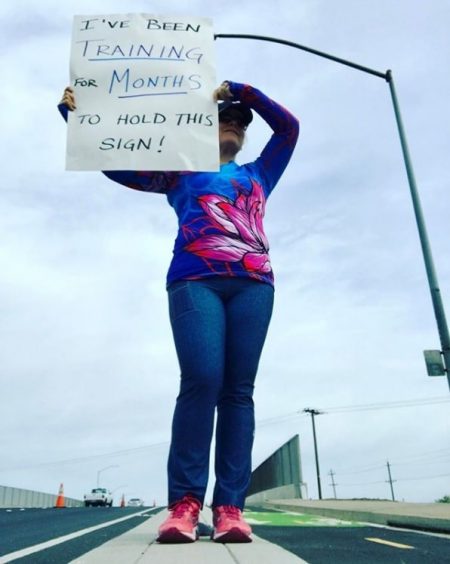 Just like the runners, cheerers need to train, too! This woman's sign claims she's been training for months just to cheer up the runners.
9. You thought it said "rum" didn't you?
via onemoremi1e
Run? Not rum?! Looks like someone made a big mistake! These two cheerleaders are likely cheering for their son or daughter. Running is a whole lot more fun with Mom and Dad's humor.
10. At least you're not at work.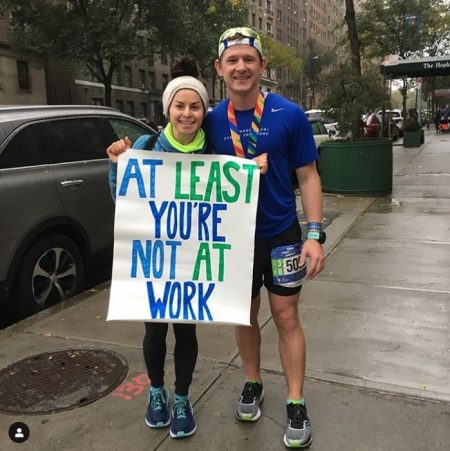 via little_lew
She knows your priorities, and that you'd rather spend time hurting your legs and losing your breath than sitting at the office and thinking at work.
11. You run better than the government.
via katiemurphy33
What better way to protest and cheer at the same time than with a witty marathon sign? These days, just about any runner would appreciate this one.
12. You'll be dino-sore tomorrow.
Puns never go out of style. This marathon sign, coupled with creative props and costume, surely caught the attention of the Philadelphia Marathon runners!
13. Alternative Fact: You're almost there!
via runnersworldaus
Here's a funny and motivational commentary on recent political events. Never mind the pain, just believe the alternative fact that you are almost there.
14. The time is meow—victory is yours!
via imgur
Don't you just love pop culture references? Keep on running and winning because the Super Troopers pack has got your back!
15. Brie, Gina, Lisa, chafe now, wine later!
via rpics
Who doesn't want a nice glass of wine after a successful run? You go, girls! The drink will make it all worth it in the end.
16. Hotties and burgers at the finish line!
via rpics
If wine doesn't motivate you, then hotties and burgers might! Keep on pushing, keep on running. What waits at the finish line will be worth it.
17. Run in like a…wrecking ball!
via rpics
Pop culture references always make for funny signs, and the added photo of Miley Cyrus getting freaky on her wrecking ball is enough to get anyone running.
18. May the course be with you!
via rpics
Our all-time favorite Star Wars quote pops up just about everywhere—even on marathon signs. Just imagine Obi-Wan Kenobi wishing you good luck, and you may find yourself motivated all the way through the race.
19. If you really loved me, you'd run faster!
via laina622
If you are an Internet whiz, you surely know Laina Morris, also known as the "Overly Attached Girlfriend." What's the best way to escape an overly attached girlfriend? Run as fast as you can!
20. No time for Walken!
via jpizzi
The image says it all. This is a marathon, so there is no time for Walken—just runnen!
21. I ran once, it was awful!
via olivervignola
Maybe not the most motivational sign ever, but definitely a funny one—especially if you are a fan of Grumpy Cat.
22. Run like Ryan Gosling is at the finish line.
Imagine Ryan Gosling waiting for you at the finish line with a hug and a kiss, and girl, you will never run out of motivation.
23. Hey girl, keep running! – Ryan Gosling
When you end up seeing Ryan Gosling again in the middle of the race, you might just start to believe that he actually IS waiting for you at the end!
24. Run, you sexy son of a…!
via bestracesigns
A little bit of shock value can add humor to an otherwise long and arduous process.
25. You could've chosen chess.
via wingedillusions
Or any other leisure activity, for that matter. But you chose running, so finish it!
26. Touch here for power!
via potable
This sign isn't super funny, but will definitely make you smile. If nothing else, it will boost any runner's energy and morale.
27. Smile if you peed a little.
via aliapenny
Or even if you peed a lot! Keep on smiling, it makes the time go faster.
28. You've done dumber things when you were drunk.
via mahoney112
Remember that time you drunkenly texted an ex, or puked on your friend's lawn? Signing up for a marathon might not seem like the smartest decision of your life when you are 20 miles in, but you've probably done a lot worse!
29. Free beer and sex at the finish. Hurry up!
via rabbischwartzy
Anything free is a great motivation—especially beer and sex!
30. The end is near.
We aren't sure if this sign was intended to make the runners laugh or not, but the dark humor behind it brought us a chuckle.
31. Finishing is your only f*cking option!
via ally white
No quitting, no stopping. Just finish it.
32. If Britney Spears can survive 2007, you can survive 26.2 miles!
via matt haze
This sign is funny because it's both clever and true. Britney survived 2007, and you know she had a tough one. So what's keeping you from surviving a few hours of running?
33. Zombies hate fast food.
Photo by Jordan Avery for Timeout
If you are fast enough, you just might survive the zombie apocalypse.
34. Smile, you paid for this.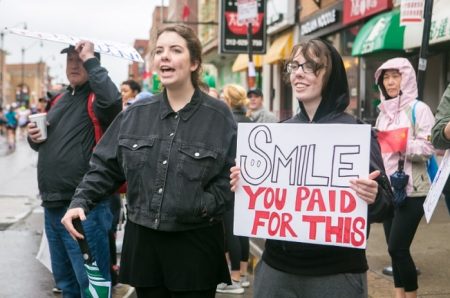 Photo by Jordan Avery for Timeout
Sometimes it's hard to believe you actually paid money to suffer! The least you can do is smile for all your efforts.
35. Why do big run when treadmill do trick?
Photo by Jordan Avery for Timeout
The Office was one of the funniest shows of the past decade, and is still making us laugh years after being cancelled—even at marathons
36. While you were running…
Photo by Jaclyn Rivas for Timeout
While you were running, she was having the best day of her life. Hurry up and finish so you can get busy having fun!
37. Bad at math.
via Aurora's Blog
While the first sign is supposed to encourage you, the second simply makes you laugh and breaks up the monotony.
38. W.T.F.
via share cherrie
WTF were you thinking signing up for a marathon? And more importantly, where's the finish?
39. Cheering isn't easy either.
via ally white
And you thought you were the only one who got up early for the race? This guy set his alarm for 4:00 a.m. to get ready for a long, hard day of standing around.
40. My hot wife is running…and all I do is drink beer!
via ally white
No matter how lazy he is or how much beer he drinks, we bet this man's wife still loves him for showing up and supporting her.
41. Me vs. You
via ally white
Some of us choose comfort—others choose to run marathons. Oh well, at least you get a free shirt.
42. Oh, we're checking those asses!
via ally white
This one's for all the singles out there cheering on the thousands of fit runners. Who doesn't love a nice butt in a pair of running shorts?!
43. A lot of work for a free banana
via agranek
Okay, you've probably figured out by now that Ryan Gosling isn't waiting at the finish line—but there is a free banana. At least you get to eat!
44. Run from your bad Tinder date!
via samantharoberts
As if your childhood and an overly attached girlfriend isn't enough, now you have to run from a bad Tinder date too! There's always something that will motivate a runner to go faster—you just have to figure out what they are scared of!
45. Free hugs if you're not wearing underwear!
via rtn-rny
Running shorts are notoriously minimalistic, and underwear is the best way to get chafed during a marathon. Leave the undies at home, and you just might score a free hug too!
46. Dad…is that you?
via dinfontay
Tinder dates, overly attached girlfriends, childhood—or how about a child you didn't know you had. Run faster!
Staying the Course With Marathon Signs
Humor and laughter can bring a lot of benefits to runners, especially during long races like marathons. Plus, they can keep the cheering crowd motivated too. They break up the monotony and quench people's thirst for fun and entertainment.
We hope that, with the marathon signs we shared above, we were able to inspire you to make your own signs for the next marathon your friend of family member runs.
Did you find this article helpful? If so, please share these ideas and images with your friends through your favorite social media platform. Then get busy drawing those signs!